Are you in the mood for a rich, tender, and meaty meal that's also vegan? Look no further than this mouthwatering Vegan Corned Beef recipe! Whether you're craving a hearty dinner or a satisfying sandwich, this vegan meat alternative will leave you satisfied. With a whopping 25g of protein per serving, this delicious dish is low in fat, contains zero cholesterol, and is bursting with flavor.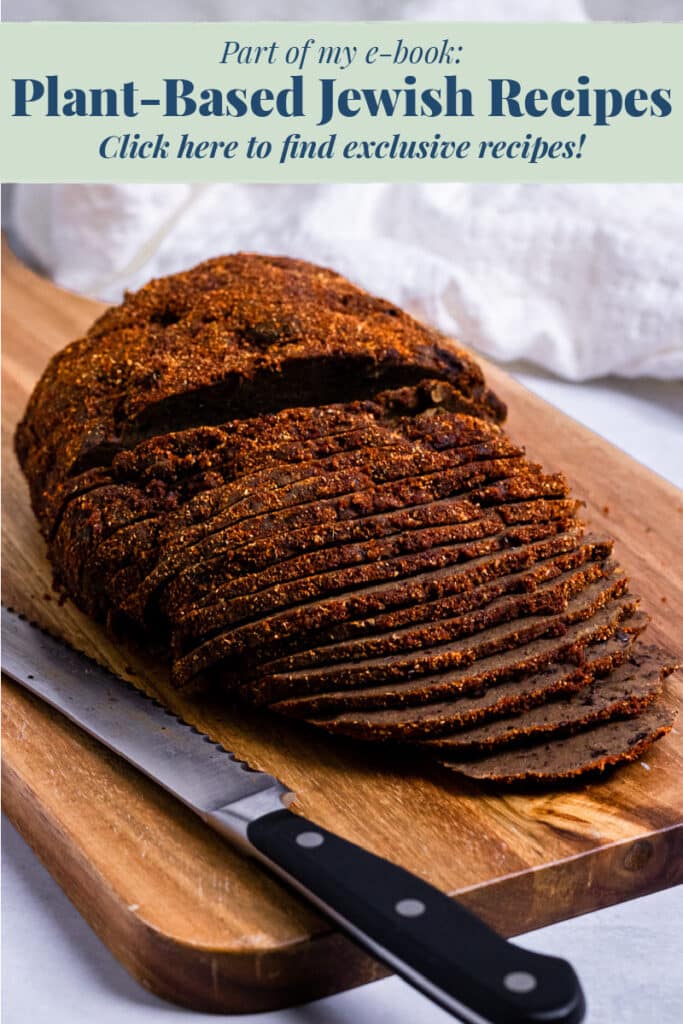 Hey there, internet friends! Prepare to be amazed by my incredible vegan corned beef recipe. As a proud seitan enthusiast, I've experimented extensively to perfect this recipe. In fact, it served as the foundation for my vegan pastrami as well. The journey to achieve the perfect texture, tenderness, and flavor was filled with exciting culinary experiments.
Let me tell you, this vegan corned beef did not disappoint. Even my husband, who joined me on my vegan journey, often requests me to recreate dishes he used to enjoy. Corned beef and pastrami were high on our list of favorites. As a child, I fondly remember relishing corned beef sandwiches on road trips and picnics, as my family had a tradition of including them in our gatherings.
Creating this seitan corned beef recipe was a long-awaited endeavor, and my recipe book provided the perfect motivation to finally give it a try. Surprisingly, it's incredibly easy to make and the results are simply delightful. So, let's dive in to discover the ingredients you'll need for this vegan corned beef masterpiece.
What You'll Need
The star ingredient of this seitan recipe is vital wheat gluten, a protein-packed flour that forms the base of this protein-rich dish. When combined with the other ingredients, it creates a dough that should not be overworked. Overkneading the dough will result in a rubbery texture, and we definitely want to avoid that.
To enhance the texture and nutritional profile of the seitan, I like to blend it with beans. For this specific recipe, black beans work well, providing not only color but also a dose of antioxidants. You could also use kidney beans for this purpose.
To give the seitan a beef-like flavor, I highly recommend using a vegan beef broth. I personally love the Better Than Bouillon Vegan Beef Base, which can be easily mixed with hot water. This brand is not only more economical but also has a richer flavor compared to prepared broths.
For that authentic tangy corned beef taste, I have an unusual suggestion: pitted kalamata olives and their brine. Don't worry, the seitan won't taste like olives. Instead, it adds a kick of flavor and improves the overall texture. The fat in the olives contributes to the mouthfeel of the seitan.
To achieve a perfectly balanced flavor, a touch of maple syrup is essential. It adds a lovely sweetness that complements the other spices without making the seitan taste sweet.
Speaking of spices, I recommend a combination of smoked paprika, garlic powder, onion powder, and ground mustard. The result is a deliciously tangy flavor that mirrors traditional corned beef.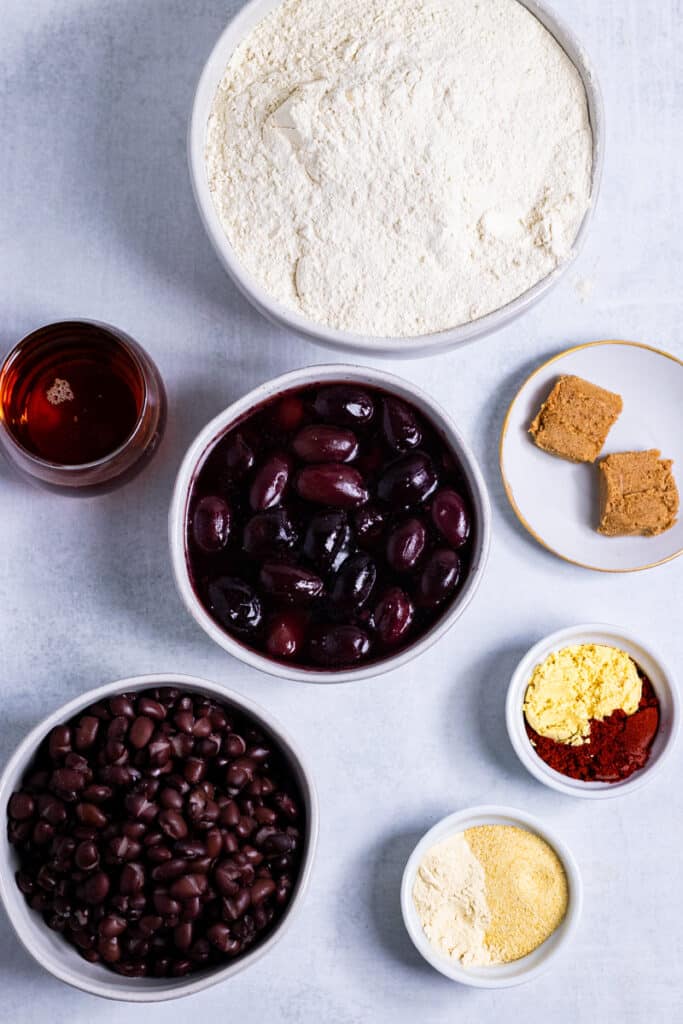 The Spice Rub
To achieve that signature rind and enhance the flavor of your vegan corned beef, a spice rub is a must. It's quick and easy to throw together, and you'll be rewarded with an incredible depth of flavor.
The spice rub includes smoked paprika, garlic powder, and onion powder, along with a few other ingredients. Coriander, sea salt, brown sugar (or coconut sugar), and a pinch of espresso powder (or coffee grounds) work together to create a flavorful rub. The espresso powder adds a slight bitterness that complements the corned beef taste.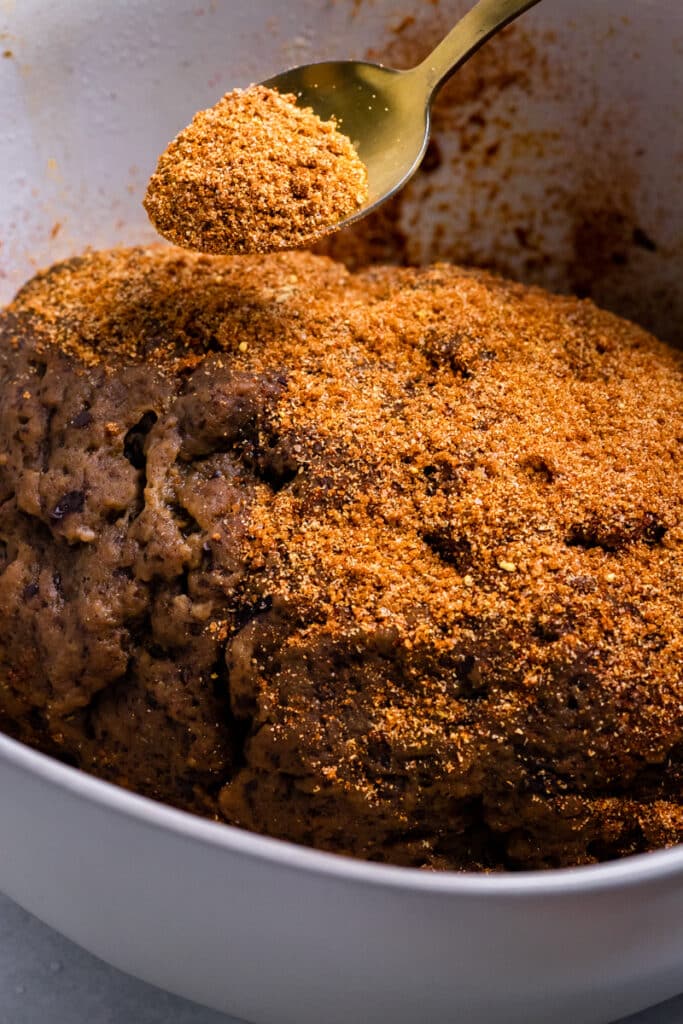 Tips for Making the Perfect Vegan Corned Beef
Though the process may seem daunting, fear not! Making this seitan is actually quite simple. Allow me to break it down into a few easy steps for you.
First, we'll make the dough. Using a food processor, blend the beans, maple syrup, pitted olives, brine, spices, and broth until mostly smooth. The vital wheat gluten is added next and pulsed until combined. Transfer the dough to a medium bowl and shape it into a lump resembling meat. Avoid overhandling the dough.
To cook the seitan, you have two options: an Instant Pot or stovetop. If using an Instant Pot, place the seitan in a steaming basket with water in the pot. Cook on high pressure for 45 minutes, then allow the pressure to naturally release. Preheat your oven and move to the next step.
For stovetop cooking, steam the seitan in a large pot with a steaming basket for approximately 1 hour and 15 minutes. Once cooked, preheat your oven and proceed to the next step.
Now, it's time to add the spice rub and bake the seitan. Let the steamed seitan rest for 10 minutes before mixing the spice rub ingredients in a small bowl. Moisten the surface of the seitan, either with water or a spray bottle, and apply the spice rub, ensuring the entire surface is coated. Place the seitan in a deep baking dish with a cover and bake it until a crust forms.
Allow the baked seitan to rest for 10-15 minutes before carving. Using a serrated blade, saw through the vegan corned beef for perfect slices. Serve and enjoy!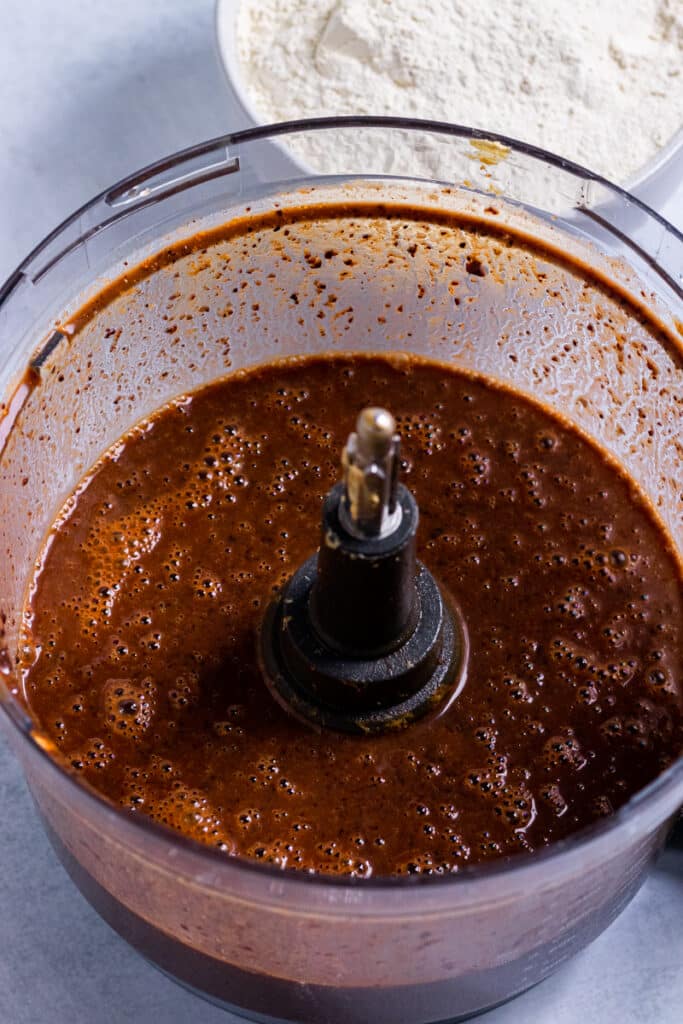 More Seitan Recipes to Explore
If you're loving the versatility of seitan, here are a few more incredible recipes to add to your collection:
Vegan Philly Cheesesteaks (a fan favorite!)
Vegan Drumsticks
Seitan Chicken Nuggets
Vegan Schnitzel
Seitan Turkey
Vegan Pastrami
Vegan Gyros
Instant Pot Seitan (the basic beefy recipe for any application)
Wrapping It Up
I hope you're as thrilled as I am about this vegan corned beef recipe. When my husband tried it for the first time, he closed his eyes and emitted an enthusiastic "Mmmmpppphhhh" while chewing. That reaction alone made it all worth it.
In summary, this vegan corned beef is tender, juicy, moist, chewy, and meaty (without any cruelty involved). It's the perfect dish for a satisfying lunch, a family dinner, or any high-protein vegan meal.
If you decide to give this recipe a try, don't forget to tag me @Zardyplants on Instagram, so I can admire your beautiful recreations! Your support with ratings and kind comments also helps more people discover my recipes, allowing me to keep sharing them with you.
Sending you lots of love and happy cooking!
Liz
<3
P.S. If you'd like to save this recipe for later, feel free to pin it on Pinterest!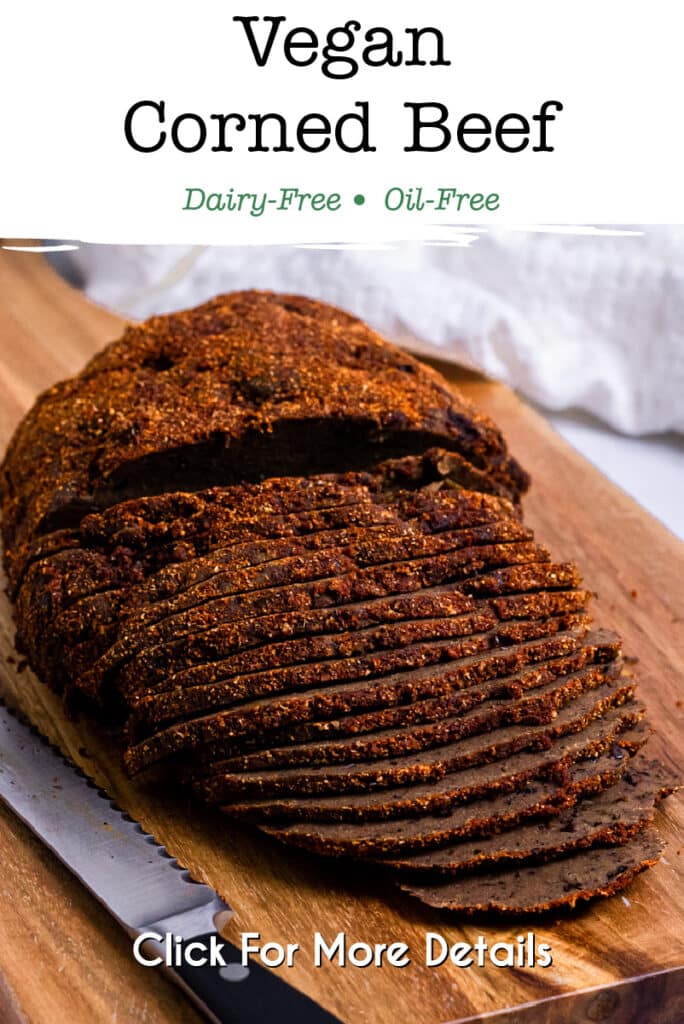 Don't forget to follow me on social media too! Follow my blog with Bloglovin