Nothing beats a perfectly cooked plate of pasta. The twirling, the slurping, the satisfaction – it's a universal love. But you might be wondering, is pasta vegan? Well, the good news is that most dried pasta is inherently plant-based. It's what you do with it that determines whether it's vegan or not. And don't worry, we've got you covered with some saucy, al dente recipes that will celebrate the pasta noodle in all its glory!
Is Pasta Vegan?
The answer is yes! Pasta can absolutely be vegan, depending on where you get it from. The most common type of pasta, the kind you find in those cardboard boxes at the store, is typically vegan. Made with semolina flour, water, and salt, it's designed for long shelf life and doesn't contain any animal products. Just be sure to check the ingredients label to be certain.
Vegan Pasta Ingredients
Pasta is a simple food that brings so much joy. Dried pasta is made with just flour, water, and salt. Some brands even fortify their noodles with B vitamins and iron. Fresh pasta usually contains eggs, but vegan versions exist and are just as sumptuous. Instead of eggs, they often use a few teaspoons of olive oil as a binder and fat source.
How to Make Vegan Pasta
Making pasta from scratch is a labor of love, but the end result is worth it. To start, combine flour and salt in a bowl, then create a well in the center. Pour in the water and olive oil, and mix until a dough forms. Knead the dough for about 10 minutes until it's smooth and no longer sticky. Let it rest for 30 minutes, and then roll it out, slice it into noodles, and boil them in salted water. It may take some practice, but once you get the hang of it, you'll be a pasta-making pro!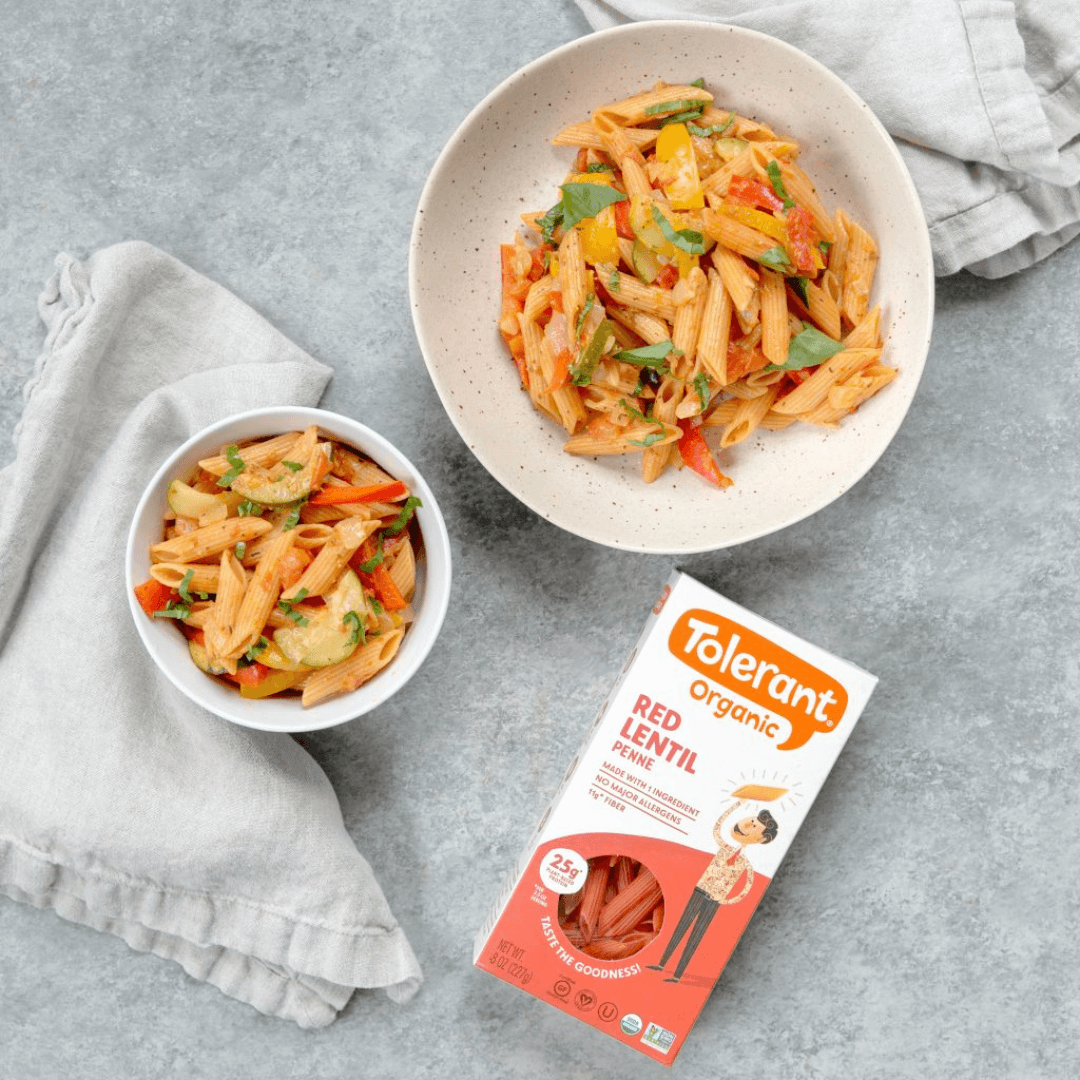 5 Gluten-Free and Vegan Pasta Brands
Looking for gluten-free options? We've got you covered there too. These brands offer delicious pasta that's both gluten-free and vegan:
Banza – Made with a blend of chickpeas and peas, Banza pasta is high in protein and fiber. They offer a wide variety of shapes to satisfy all your pasta cravings.

Trader Joe's – Trader Joe's is known for its innovative products, and their gluten-free pasta selection is no exception. From brown rice and quinoa noodles to black bean and red lentil options, they have something for everyone.

Tolerant Foods – This company specializes in legume-based pasta and offers a variety of lentil and chickpea options. Their organic, gluten-free pasta is packed with flavor and nutrition.

Jovial – Jovial's pasta is made purely from cassava flour and water. It's grain-free, allergen-friendly, and comes in a range of shapes. They also offer a brown rice range for those who prefer a different grain.

Miracle Noodles – If you're looking for a low-calorie option, Miracle Noodles are for you. Made from konjac flour and water, these noodles are light, chewy, and perfect for guilt-free pasta dishes.
9 Vegan Pasta Recipes to Try
Now that you know the basics, it's time to get cooking! Here are nine mouthwatering vegan pasta recipes to satisfy your cravings:
Vegan Cashew Cream Pumpkin Pasta – This pumpkin-infused creamy sauce takes fettuccine alfredo to a whole new level. Serve it over penne or your favorite long noodle for a dish that's rich and comforting.

Hearty Vegan Mushroom Fettuccine Bolognese – Transform jarred marinara into a hearty bolognese with the addition of umami-rich cremini mushrooms. This recipe proves that a few simple ingredients can turn basic into brilliant.

The Best Vegan Macaroni and Cheese – Calling all mac and cheese lovers! This baked vegan version will blow your mind. With a buttery breadcrumb topping and a thick, luscious cheese sauce, it's the ultimate comfort food.

Creamy Vegan Spinach Ravioli With Cashew Cheese Filling – Who says ravioli can only be enjoyed at restaurants? With this recipe, you can make your own creamy, spinach-filled ravioli at home. Just be careful not to overstuff them!

Easy Brussels Sprout Linguine With White Wine Sauce – This light yet filling pasta dish is perfect for a refreshing meal. Pair a dry white wine with lemon, shallots, and garlic for a delightful flavor combination.

Creamy Vegan Mushroom Fettuccine Alfredo – Add some depth to the classic alfredo sauce with juicy portobellos and thinly sliced cremini mushrooms. The earthy taste of the mushrooms complements the rich cashew alfredo sauce perfectly.

Vegan Scampi With Garlic White Wine Sauce – Hearts of palm take center stage in this plant-based version of a classic pasta dish. You'll be picking out the vegan scallop pieces and savoring every bite.

Vegan Cashew Ricotta Stuffed Shells – Bring some old-school comfort to your table with these stuffed shells. Whether you're vegan or not, no one can resist the ooey-gooey vegan cheese filling.

Lemony Pumpkin Seed Pesto Pasta – This vibrant green bowtie pasta is perfect for warm weather gatherings. Made with pumpkin seed pesto, it's a nut-free option that everyone can enjoy.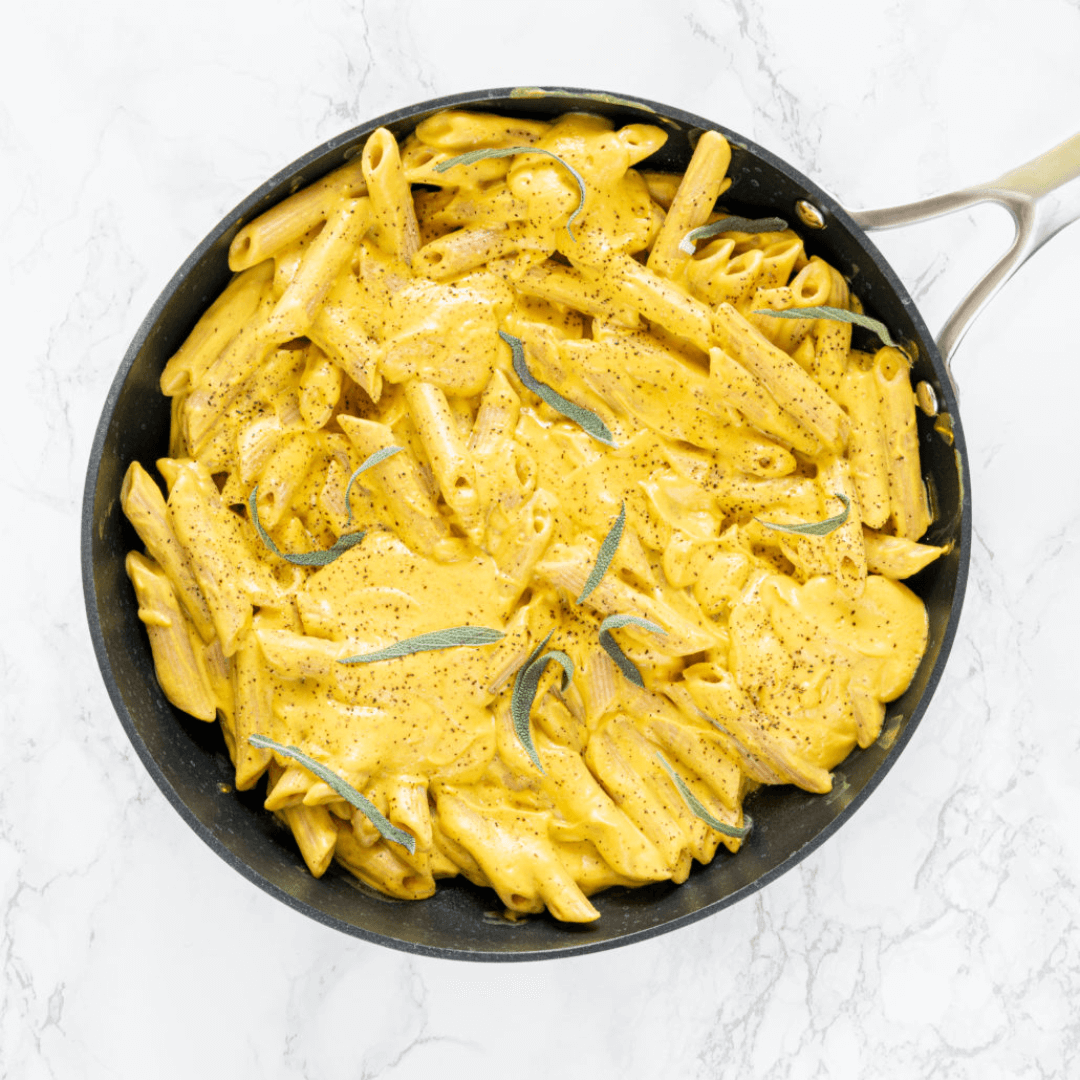 So grab your ingredients, put on some music, and let's get cooking! These vegan pasta recipes are sure to satisfy all your cravings and leave you wanting more. Enjoy!